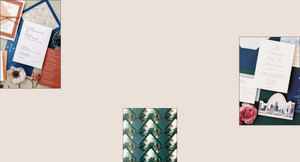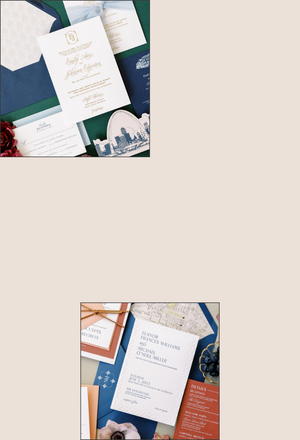 Design Tailored to Your Vision
Custom Invitations
& Event Branding
We bring a thoughtful approach to custom invitation design
We specialize in contemporary, yet timeless, design—paying homage to Fine Art and Impressionist, Art Nouveau, and Art Deco periods. We are inspired by architecture, interior design, and texture. We utilize high-quality paper stocks, printing methods that create depth and texture, and luxe finishing touches to capture the essence of your unique story and celebration.
Your collection will evoke a one-of-a-kind feeling because it's an extension of you and your celebration. By investing in Custom Invitation Design & Event Branding, you will create an exceptional experience for your guests from the moment they open their invitation to their final good-bye at the end of your event.
Working With Leighwood
A look into our signature process
Consultation & Style Meeting
After you inquire, you receive an email to book your consultation. This meeting allows us to work through your initial thoughts and vision, as well as how you want to elevate your guest experience through your stationery.
Proposal & Booking
Based on our discussion at your initial consultation, we create a custom proposal for your review. Included are options for printing methods, finishing touches and other details related to your initial design concept. To secure your space on our design calendar, just approve your proposal and pay your 25% retainer. Congrats – you are now a Leighwood couple!
Our Signature Design Process
The design portion of your project begins between five to seven months before your wedding date. We review paper and design samples, as well as sift through swatches to determine your style and needs. Pulling from all the inspiration you've provided, we create a single design concept, which streamlines the process and keeps us focused on the most important aspects of your design.
Print Production & Semi-Assembly
We work with several trusted production partners to ensure the highest quality materials and printing, always working with local partners when possible. Before your suite is delivered, thorough quality checks and semi-assembly of all your pieces happen. Your finished suite is packaged nearly ready for the mail — just attach postage, seal and send!
Suite Delivery
All suites are delivered at least one week before your suggested mailing date, pre-assembled and without invitation envelope postage. A separate suite for detail photography will also be included in your final delivery, as well as a keepsake suite for you.
Celebration!
Once your beautifully crafted invitations are mailed off to your guests, it's time to celebrate and check this big to-do off your list! Be sure to track your RSVPs as they arrive for important guest details that impact your day-of paper goods, such as attendee numbers and meal choices.
Minimum investment for custom invitation design starts at $3,000
What's Included
✓ Custom designed invitation suite to reflect your unique style
✓ A trusted advisor to guide you through our Signature Design Process and provide wording & etiquette suggestions

✓ Curated Color Palette & Inspiration Board
✓ Premium Paper Options including Colored 1-Ply Cover Stock & Envelopes with Digital Printing
✓ Full envelope addressing and liners
✓ Semi-assembly of your suite, including postage for return envelopes
✓ Keepsake suites for photography and preservation
+ A couple bonuses along the way!
The Leighwood Experience, Explained
New to our design studio? Learn more about The Leighwood Experience firsthand from our founder, Amanda Woodruff.
Let's Celebrate Your Story
Share a few details and we'll be in touch to schedule your consultation
Looking for our semi-custom collections? Follow us here ⟶